Cheval Young Writers Award - 2013
Joâo Owain Morais


Joâo Morais was born, and currently lives, in Cardiff. He is studying for a PHD in Creative Writing at Cardiff University. He was a runner up in the 2009 Rhys Davies Short Story Prize. He has had many short stories and poems published in a variety of publications and writes about art for Wales Arts Review.His winning entry was a story entitled
"Asking a Shadow To Dance"


Siôn Tomos Owen

Siôn is a Welsh speaking Welshman. He lives in Gelli, Rhondda Fawr, and currently works at Ysgol Gyfun Cymer Rhondda, as head of year 7 and pastoral worker. He has various pastimes which include rugby, painting, cooking, music (especially Jazz) and DIY projects. He went to a welsh primary and secondary school in the Rhondda. He then went to art collage where he specialised in illustration before going on to study Media & Creative Writing at Trinity College Carmarthen, where he obtained his degree. He's written poetry and plays various musical instruments and has been published by Parthian. He's performed at a number of events including the Hay literary festival and Hay Fringe Poetry festival. He is currently undertaking the arduous task of attempting to write something longer than a short story.
His winning entry was a story entitled
"Running Into The Ground" which was his first wandering into prose fiction.


View Entry
View Entry
Natalie Holborow


Natalie is a 22-year-old final year undergraduate at Swansea University studying English Literature with Creative Writing. She decided to stay in her hometown of Swansea to study as she loves the cultural links to Dylan Thomas and regularly attends events during the festival. She's been short listed for both the Bridport Prize (2010-2012) and the Hippocrates Prize for Poetry and Medicine. She plans to study for an MA in Creative Writing at Swansea University next year.
Her winning entry was a poem entitled "Craig y Nos".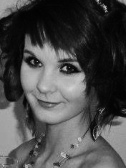 View Entry